Cyberbullying Resources
As part of Uniserve's commitment to our core values of respect, integrity, service, and excellence, we are providing a place for parents/guardians and teens to get information about cyberbullying. As an internet service provider, we have a responsibility to assist parents/guardians and teens in dealing with cyberbullying by defining the issue, providing statistics on the prevalence of it, and providing resources where individuals can learn more about possible warning signs of cyberbullying taking place. Below are resources from government agencies, government funded programs, and other organizations that focus on the welfare of children and teens impacted by cyberbullying.
What is cyberbullying?
Kids call it hating, drama, gossip or trolling. Whatever name it goes by, cyberbullying is serious. It can be emotionally damaging and even lead to tragic consequences. It's happening enough that, as a country, we need to do more about it.
Simply put, cyberbullying is when a child or teen becomes a target of actions by others – using computers, cellphones or other devices – that are intended to embarrass, humiliate, torment, threaten or harass. It can start as early as age eight or nine, but the majority of cyberbullying takes place in the teenage years, up to age 17.
Most often, it's sustained and repeated over a period of time. But whether it's sharing one humiliating photo or 1,000 harmful text messages, it can damage a young person's feelings, self-esteem, reputation and mental health.
Unlike face-to-face bullying, cyberbullying can be relentless. It can reach a victim anywhere at anytime: alone in their bedroom, walking home from school, or even on a family vacation.
Because it can spread quickly, to a wide audience, you might be surprised to learn that most teens today have been involved in some way or other, either as a target, as a bully, as a silent observer, or as someone who participates on the sidelines and becomes part of the problem without realizing what they're doing.
https://www.getcybersafe.gc.ca/cnt/cbrbllng/prnts/
cbrbllng-en.aspx
Who is impacted?
Internet victimization among 15- to 29- year olds was more prevalent in younger age groups. For instance, among those aged 15 to 20, about one in five experienced cyberstalking, cyberbullying or both, compared with 15% of those aged 27 to 29.
Another group more at risk of experiencing cyberbullying/cyberstalking was the young homosexual and bisexual population. More than one-third were cyberbullied or cyberstalked, compared with 15% of the heterosexual population.
Past experiences of assault during childhood, witnessing parental violence, and discrimination were among the most significant factors associated with an experience of cyberbullying or cyberstalking.
For example, among young Canadians who experienced a physical or sexual assault before the age of 15, 31% reported having been cyberbullied or cyberstalked, compared with 13% for those who did not experience assault.
Also, young Canadians who reported a recent experience of discrimination were more likely to report that they had experienced either cyberbullying or cyberstalking (37%), compared with those who had not been a victim of discrimination in the past five years (12%).
https://www.statcan.gc.ca/daily-quotidien/161219/dq161219a-eng.htm
https://angusreid.org/social-media/
https://cyberbullying.org/research/map/canada
What can I do to help my child?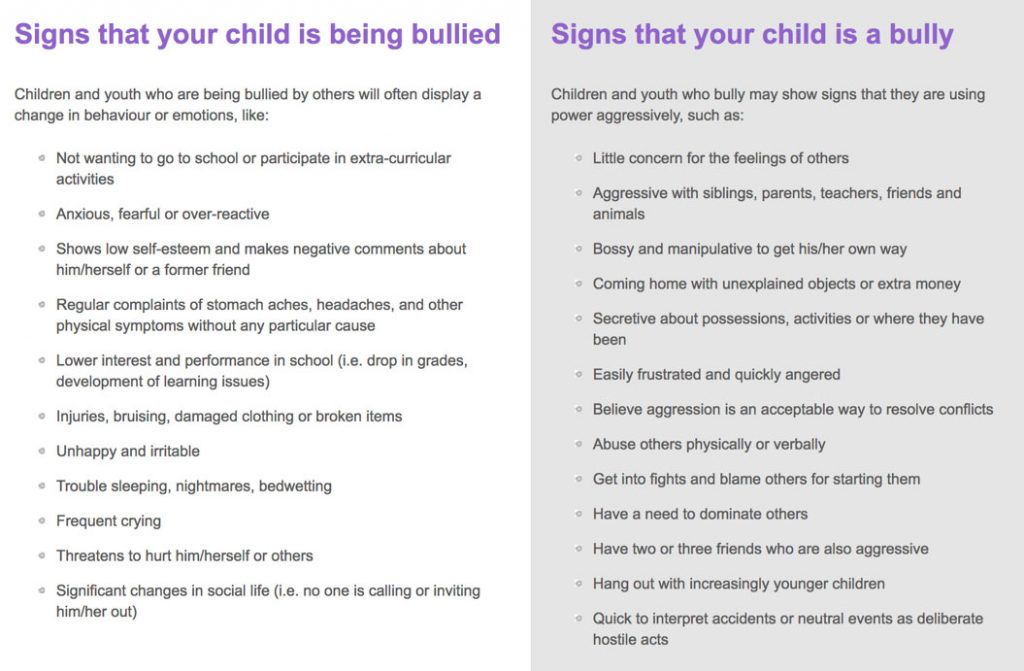 https://needhelpnow.ca/app/en/resources_cyberbullying
Fact #1
Almost 1 in 10 Canadian online teens – 8 per cent – say they have been victims of online bullying on social networking sites.
Fact #2
More than one-third (35 per cent) of Canadian teens with a profile on a social networking site have seen mean or inappropriate comments about someone they know.
14 per cent say they have seen mean or inappropriate comments about themselves on social networks.
Fact #3
18 per cent of Canadian parents say they have a child who has experienced cyberbullying.31 per cent say they know a child in their community who has experienced cyberbullying.
Fact #4
90 per cent of Canadians would support a law that would make it illegal to use any electronic means to coerce, intimidate, harass or cause other substantial emotional distress.
Facts From: www.getcybersafe.gc.ca
Additional Resources
https://www.cybertip.ca/app/en/report