Remote Workforce Plan for COVID-19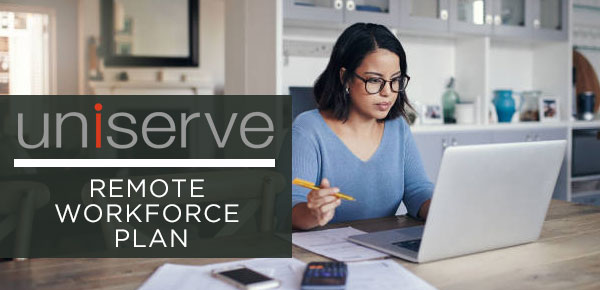 As the COVID-19 situation continues to escalate and evolve, Uniserve Communications continues to closely monitor the situation and is taking preventative measures to ensure business continuity and service while putting the health of our employees and customers at the forefront of our plans.
As a precautionary measure, as of Monday the majority of our workforce will be transitioning to remote/work-from-home.
What does this mean for you and the services we provide?
Not much. Our goal is always to be able to provide the best possible service for our customers. Our team has set up all necessary access, hardware and devices to seamlessly transition to a work-from-home infrastructure. Technicians who are required to go on-site will follow Health Canada best practices and confirm with management they are healthy before being dispatched. Our Sales Team will utilize all tools available to them to do less in person meetings and more tele/video conferencing.
How can we help your business succeed even with the threat of COVID-19?
As more businesses recognize the requirement for remote work forces under such circumstances, we have tools in place that we can provide to help our customers achieve success and mitigate risk.
– 
Business phone services
 with a full unified communications platform
– 
Business grade laptops
 deployed with a full security suite & backup solution
– 
Office 365
 with full Microsoft productivity suite; built in anti-spam & backups
– 
Secure connectivity solutions
 (VPN) to access internal resources and files
With our business contingency plans and practices in place, we are confident that our services should not be impacted should the COVID-19 situation escalate.
Please don't hesitate to reach out to us if you have any questions.